iPhone Prepper Survival Apps
When I first started prepping I can remember spending hours searching for iPhone Prepper Survival Apps. Jumping from blog post to blog post trying to research the iPhone Prepper Survival Apps that were available specifically for the iOS platform. So I thought you might find it useful to see a complete list of iPhone Prepper Survival Apps currently available in the app store. Some of these apps are paid apps but a lot of them are free and well worth taking a look at.



Survival Guide
Description
Survival skills are techniques a person may use in a dangerous situation (e.g. natural disasters) to save themselves or others (see also bushcraft). Generally speaking, these techniques are meant to provide the basic necessities for human life: water, food, shelter, habitat, and the need to think straight, to signal for help, to navigate safely, to avoid unpleasant interactions with animals and plants, and for first aid.
American Survival Guide
Description
Keep yourself and your family prepared for when disaster strikes. Get outdoor survival tips to deal with natural disasters like earthquakes, avalanches, and floods. Learn essential survival strategies to be ready when a wilderness trip goes terribly wrong or when there are urban calamities like power failure, civil unrest or terrorist attacks.
SAS Survival Guide
Description
The SAS Survival Guide has been the definitive guide to surviving any situation, anywhere in the world. Now, for the first time ever, the million-copy bestselling book has been reinvented for the iPhone.
Freedom Prepper
Description
The Freedom Prepper app makes a great addition to your survival gear and is the ultimate survival app containing the most up to date preparedness information available.Inside you will find articles, how to guides, DIY projects, gear reviews, and interviews with top survival experts, along with cheat sheets, checklists and so much more.
Home Food Storage (Pantry, Prep or Grocery)
Description
How much food do you have in your home? Organize, scan and achieve your home food storage goals the easy way.
Home Food Storage will help you whether you're just starting or have a well-established plan.
The Preppers Bible
Description
The Preppers Bible is the only Prepper's app you'll ever need! It contains a variety of resources, that you can use to provide a level of readiness in a disaster situation. You'll get a food storage calculator that helps you determine the amount of food required to survive, for any number of adults and children, up to five years.
Prepper
Description
With Prepper App you keep a perfect overview over your food supplies at home! Do you have expired food now and then?
This app reminds you of expiring food in time! You cannot remember which food is in your deep freezer? With this app you gain overview! Do you expect the financial crisis to be back soon – worse than ever? If you want to prepare your family purposeful with food supplies for any case of emergency, with this App you will be provided with a helpful supporting tool.
72 Hours App
Description
72 Hours App reminds you when items expire. It is the best way to organize and keep your kits up-to-date. We believe that technology should simplify life, giving us more time for the things that truly matter. The 72 Hours App will help you keep your 72 Hour Emergency Kit up-to-date so that when there is an emergency you and your family are prepared.
Crisis Survivor Guide
Description
Are you prepared to survive the apocalypse? Do you have enough skills to survive if you're lost in the wild? Are you ready for the end of days? Better answers the quizzes if you dare! Tons of quizzes and how to survive different disasters, wars, zombie invasion, camping and other adventure activities. Read, answer and learn!
Pantry Manager
Description
Manage all of your household items with Pantry Manager! Lower food waste with expiration date reminders and a shopping list that matches actual items you own or will buy. Never again will you wonder if you have that ingredient when you're at the store.
Ready F.M
Description
Ready.FM provides you with the information, connections and tools you need to protect you, your family and community in times of crisis. Features include world class content, survival and adventure gear reviews, messaging with map integration, create and share kits.
Disaster Alert
Description
Disaster Alert (by Pacific Disaster Center) is a free download providing mobile access to multi-hazard monitoring of an early warning for "Active Hazards" around the globe. Additional information and reports about hazards can be viewed and shared.
Disaster Prediction App
Description
The Disaster Prediction App will show you the current state of the sun, it's effects on earth, earthquake events, and areas of the earth likely to have large earthquakes. There is a space weather portion of the App and an Earthquake portion of the App. The space weather portion includes the most vital information for alerts for when to pay attention – but most importantly this is your in-hand warning system if the sun ever decides to really rock-and-roll.
Fema App
Description
The FEMA app is your one-stop-shop with tools and tips to keep you safe before, during, and after disasters. Stay updated with weather-related alerts from the U.S. National Weather Service. Upload and share your disaster photos to help out emergency managers. Save a custom list of the items in your family's emergency kit, as well as the places you will meet in case of an emergency. Get tips on what to do before, during, and after over 20 types of disasters. Locate open shelters and where to talk to FEMA in person at Disaster Recovery Centers.
uBAlert
Description
ubAlert app gives you all the information you need when it comes to disasters happening across the world. With data collected from both verified sources and users like you, you'll instantly have access to everything you need to know about an event.
Hurricane: American Red Cross
Description
Be ready for severe weather with Hurricane by American Red Cross. Monitor conditions in your area or throughout the storm track, prepare your family and home, find help and let others know you are safe, a must have for anyone who lives in an area where a hurricane may strike or has loved ones who do.
Compass Free
Description
Compass is a measuring instrument which indicates the cardinal points under the sunlight. Put your finger in the middle of the compass and line it's shadow up with the app's shading.
Tornado by American Red Cross
Description
**One of CNN's 7 apps to help survive a tornado** Get your family and home ready for a tornado. The American Red Cross tornado app is the complete solution you need to understand and prepare for a tornado and all that comes with it. With interactive quizzes and simple step-by-step advice, it's never been easier to be ready!
American Red Cross Emergency: Alerts
Description
Help keep your family safe in severe weather, man-made/natural hazards with Emergency by the American Red Cross. Monitor conditions in your area or area of loved ones, prepare your family and your home, check to see if loved ones are safe and let them know you're safe.
Wild Edibles
Description
Explore free edible plants in your backyard The ultimate foraging guide: identify, cultivate, and prepare over 250 plants! Created in collaboration between "Wildman" Steve Brill, Becky Lerner, Christopher Nyerges, and Winterroot.
Wild Plant Survival Guide
Description
Nature can provide you with food that will let you survive any ordeal if you don't eat the wrong plant. Learn about the plants of the region where you will be operating before your life depends on it. Plants can also provide you with medicine in a survival situation. Plants can supply you with weapons and raw materials to construct shelters and build fires.
Edible Plant Guide
Description
Over 2,500 beautiful full color images covering over 950 plants and what health conditions they have been historically used for. The "Edible Plant Guide" (Free Food & Medicine) will help you identify the plants that you see outside your house, and use their natural powers to live a truly healthy life.
Knots 3D
Description
Used by arborists, fishermen, firefighters, climbers, military and boy scouts the world over, Knots 3D will quickly teach you how to tie even the most difficult knot. With more than 120 knots, Knots 3D will be your go-to reference! Grab some rope and have fun!
Survivalpedia -Military Outdoor Survival Manuals
Description
Welcome to the finest collection of Army and Military survival handbooks, field manuals, and valuable knowledge ever collected under 1 app. Survivalpedia is your ultimate resource for all things related to survival and personal protection. Contained here are thousands of pages and illustrations ranging from outdoor survival, personal fitness, first aid, parachuting, and knots, to mountaineering, camouflage, military operations, self-defense.
NUCLEAR WAR SURVIVAL SKILLS 4.0!
Description
The purpose of this book is to provide Americans and other unprepared people with information and self-help instructions that will significantly increase their chances of surviving a nuclear attack. It brings together field-tested instructions that, if followed by a large fraction of Americans during a crisis that precedes an attack, could save millions of lives.
Wilderness Survival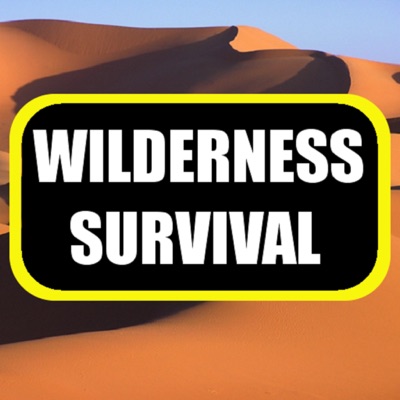 Description
The MOST Substantial Wilderness Survival guide, Choose your terrain (Desert, Snow, Forest, Coast, At Sea). Hours of instructional video. Dozens of images and diagrams. Comprehensive first aid reference. Intuitive Interface. Region-specific animal index. The latest survival techniques utilized by the world's militaries.
iPhone Prepper Survival Apps Summary
I hope you find the above list of iPhone Prepper Survival Apps helpful and it saves you some time by having them listed all in one place. I spent a considerable amount of time searching the app store to ensure I could list everything that is available. Retail store apps that sell prepping supplies and magazine subscription apps have been excluded on purpose. If you think I have missed any iPhone Prepper Survival Apps of the list. Feel free to get in touch.
Recommended Reading
Survival Emergency Apps For Preppers
Prepper Resources Section